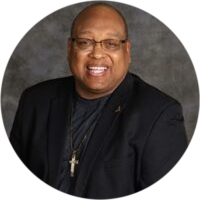 Memorial United Methodist Church Welcomes

The Rev. Dr. Carl Linwood Manuel, Jr., D.Min.
Our new Pastor, comes to us from MIDWAY UNITED METHODIST CHURCH in KANNAPOLIS, NC, where he was appointed as the First African American Pastor of the church on July 1, 2020.
He matriculated and graduated from Greensboro City and Guilford County Schools, Johnson C. Smith University BA, Education; University of Illinois MEd, Reading; Duke University Divinity School, Dean Scholar; United Theological Seminary, Doctor of Ministry Samuel Dewitt Proctor Scholar; and Hood Theological Seminary, Dean Scholar.
The Rev. Dr. Carl L. Manuel, Jr. is a noted international singer around the world. Please join us to welcome him on the 2nd Sunday of July 2021.
About Our Pastor
Rev. Rodvegas Ingram, Sr.
Rodvegas Ingram, Sr. is a native of Albemarle, NC. Upon graduation from high school, Rod went to UNC-Chapel Hill, and obtained a BS in Industrial Relations and Psychology. After college, he became a member at Union Memorial UMC, where he served in multiple capacities. Rod also worked in the Consumer Finance Industry until answering the call to ministry. In preparation for being an ordained elder in the United Methodist Church, Rod left the Finance industry, and became employed with Allstate Insurance in 1999, and then enrolled at Hood Theological Seminary in 2000. In 2001, Rod was appointed as pastor of Collins Grove in the Greensboro District. He obtained his Master of Divinity in 2005, and was commissioned a Provisional Elder, that same year. In 2010, He became the pastor of Chapel Hill UMC in Reidsville, and St. John UMC in Eden, in the Northern Piedmont District. In February, 2011, Rod completed the written and oral requirements of the Board of Ordained Ministry, and he was ordained as an Elder in Full Connection at Annual Conference in June 2011. Since 2011, Rod has been part of the Greensboro Cluster Choir, and the Reidsville Charge Community Choir.
He has served as the Communications Coordinator and the Co-Coordinator of the Youth Committee for WNC BMCR, and he currently serves as the WNC BMCR Vice Coordinator of Social Action. Rod is the former Treasurer of the Hood Theological Seminary Alumni Association. In 2013, he became the Secretary of the Eden Ministerial Fellowship. In 2014, a new pastoral alignment took place, and Rod became the pastor of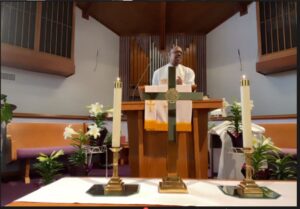 Salem UMC in Reidsville, NC and St. John UMC in Eden, NC. He also became a board member of the Barry Joyce Local Cancer Support Fund in Madison, NC, and he serves on the District Board of Ordained Ministry. In 2017, Rod was elected President of the Eden Ministerial Fellowship; selected as the Missional Network Leader for the Guilford Rockingham Caswell Network of churches; and was elected to serve as Vice President of the Greensboro Cluster. In July 2018, Rod became the pastor of Memorial UMC in High Point, NC.
Rev, Ingram is married to the former Tamara McDowell of Greensboro. Tamara graduated from Hood Theological Seminary in May 2011 with a Master of Divinity. She served as the pastor of St. Stephens UMC and Hayes Chapel UMC in Madison, NC. In July 2018, she became the pastor of St. Mary's UMC and Trinity Memorial UMC in Trinity, NC. Rod and Tamara are the parents of two sons, Marc and Cameron. Both of them are graduates of NC A&T State University. They are also the proud grandparents of their granddaughter, Katelyn Ingram.
The mission of Memorial United Methodist Church is to love God, to love others, and to magnify the name of Jesus Christ. The vision of our church is to glorify our God and Savior, Jesus Christ, to make true disciples throughout all the nations by means of missionary activity and support, to minister the ordinances, to edify believers, and to do all that is sovereignly possible and biblically permissible to magnify the name of Jesus.

Our Leadership Team
The leadership team of Memorial United Methodist Church recognizes the authority of God, and realizes that we are shepherds who serve under the Chief Shepherd, Jesus Christ. We desire to devote ourselves to prayer and to the ministry of the Word. Our passion and goal is to equip the believers for the work of the ministry until we all attain maturity in the fullness of Christ.
Our Church Secretary
Cynthia Marshall joined the staff as Church Secretary in May 2004. She faithfully assists our pastor and congregation with needed administrative support. Cynthia can be reached at (336) 889-4501.